Slingshot UFO V1 Strutless Kite
Slingshot UFO V1 Strutless Kite
Are you prepared for out-of-this-world foil performance? The
all-new UFO will take you there—and beyond—as the lightest
LEI kite we have ever produced. Built off a strutless design, the
UFO is lighter, faster and more efficient than anything else on
the market—that's why it's the Unlimited Foiling Object.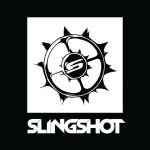 MORE ABOUT THE UFO V1
We sacrificed nothing and maximized everything when we
designed the all-new strutless UFO to be our pure, unlimited
performance foiling kite. The UFO has a Compact Swept-C
canopy shape for direct and instant handling, as well as insane
range and power control, and an IRS bridle for immediate
response. Off of that strutless design and bridle configuration,
we made the canopy out of Teijin D1 fabric—the lightest
weight ripstop available—and then stripped the UFO down to
just the bare essentials in order to make it the ultimate foiling
machine with unbelievable handling and space-age drift.
3m / 5m / 7m / 9m | SKU 121180
WHY YOU'LL LOVE THE UFO
+ The UFO is the lightest LEI Kite that we have ever produced
+ Every aspect of the UFO has been tailored for true foiling performance
+ The UFO has the most drift and power control out of any kite in our range
+ The UFO packs down incredibly small, you can fit the full quiver in your
carry on; this kite is a jetsetter's dream
+ Turns on a dime, the ultimate kite for fun flying while on foil
NEW
Package includes: UFO V1 Kite, Compact UFO Kite Day Pack
UFO Features
1. 0 Struts: Reduces weight & drag. With zero struts, the UFO is incredibly
lightweight and able to fly in the lightest of wind conditions. This reduced
drag also allows the UFO to fly further forward in the wind window.
This equates to better upwind angles and reaches, as well as lighter bar
pressure.

2. Teijin D1 Canopy: The lightest weight ripstop on the market—the ideal
fabric for a foil-specific kite like the UFO.
3. Flyweight Construction: From a .3mm bladder to reduced scuff guards
to minimal stitching and paneling, the UFO's Flyweight Construction is all
about performance simplicity.

4. IRS Bridle: Replaces pulleys traditionally used on any bridle. The IRS Bridle
features a bungee that eliminates the time necessary for the pulley to travel
fore and aft. What used to be delayed and unresponsive, now happens
instantly, seamlessly and automatically thanks to the IRS Bridle.
5. Compact Swept C Shape: Compact = Excellent steering, pivoting and drift.
Swept-C = Huge range with responsive power management to prevent over
foiling.

6. Compact UFO Kite Day Pack: A minimalist, nylon kite bag, stripped
down to the bare essentials. Packs down extremely small for optimum travel
performance. Fit your whole quiver in your carry on.
Brand
Slingshot Kiteboarding
Buy Slingshot Kites, Foils, Boards and Accessories (On Sale now)
Slingshot Sports KiteBoarding, Wake, Surf Gear.
Kites, boards for kite, wake and surf, foils, and accessories from slingshot sports are some of the best in the industry
History of Slingshot
Since 1981 Tony Logosz and his brother Jeff have dedicated themselves to the performance and design of quality water sports equipment. Years of hard work and innovation, that is spawned from Tony's ability to think in original ways, is what fuels them today. In 1999, after numerous innovations in windsurfing, wakeboarding and other major sports, both set forth to found Slingshot. Since then Slingshot has grown to be a global brand which caters to top kiteboarders and wakeboarders in the world.
Slingshot in today's board sports industry
Slingshot today: achieving this level of success commits us to our core beliefs. People who ride Slingshot will always come first. Our commitment to quality, innovative design, testing and riding have been a driving force for an entire decade. Through this decade we have been awarded four U.S. patents that make kiteboarding more convenient and safer. We also proudly license patents, from other great innovators of our sport, to help establish high levels of quality and set industry standards. This contributes to the prosperity and growth of kiteboarding and wakeboarding. Have a question about Slingshot Kites, Slingshot Kiteboards or Slingshot Accessories?
info@kiteboardingcloseouts.com
Kiteboarding Sale
Sale Prices - Get the Best Sales online
See our kiteboarding equipment that we have for sale by looking at the items below marked with the circular blue "Sale" sign, or navigate to the homepage and look at the bottom under the section:
ON SALE NOW! DISCOUNTED KITEBOARDING GEAR
Kiteboarding Kites
If you are looking for kiteboarding kites for sale, we can help. At Kiteboarding Closeouts, we often buy previous season inventory in bulk so we can pass those savings on to you. Contact us to find out if we have the kite you are looking for. You can purchase with or without bar and lines.
Slingshot Kiteboarding Kites
-Slingshot kite for sale:
See our current inventory of slingshot kites In general we usually carry:
Slingshot Rally Kite
Slingshot SST Kite
Slingshot RPM Kite
See this page to view
kites for sale
Sale Prices
Sale prices can vary based on new vs. used. For instance, we may have a 2015 for under $400 or a new kite for $1,221. Review the products below to see our current stock of new and used slingshot kites.