2021 Ocean Rodeo Roam A-Series (Aluula) Kite
2021 Ocean Rodeo Roam A-Series (Aluula) Kite
Inspiring trust and confidence in all conditions.
The A-Series Roam featuring ALUULA is simply a dream come true for freeride foilers and committed wave riders.
This 3-strut kite with an ultra-light and strong ALUULA airframe allows for precise sheeting control, snappy turns and on-demand kite positioning in light winds. And should the wind pick up, the stiffness of the air frame means that the kite's stability and precision control is retained.
For freeride foiling, kite transitions on the A-Series Roam are achievable in the lightest of breezes, and with the deep, low aspect design coupled with the light ALUULA airframe, the A-Series Roam will not luff or stall, even in complete slack-line situations.
Unpredictable wind states and formerly unmakeable sections all become opportunities for the rider: the playing field is fully opened up by riding the A-Series Roam.
Sizes 5, 6, 7, 8, 9, 10, 12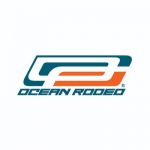 3 

STRUT

 PERFORMANCE: NO COMPROMISE
It's no secret that removing struts from kites means a compromise in performance – the reduction in weight improves light wind capabilities but the downside is reduced stability and poor top-end performance.
With the ALUULA three-strut airframe, there is no longer a need to compromise…
The reduction in weight and increase in strength of this airframe means you can retain all three struts and still enjoy the light wind benefits you'd get from a no-strut or one-strut kite, as well as the expansive usable wind range that comes with having a three-strut kite. The evenly balanced weight distribution of the three struts and the light leading edge deliver remarkable resistance to back stall and luffing if you overshoot the kite or find yourself in a lull.
Precision curved to match the airfoil profile, the ALUULA airframe is highly tuned to take full advantage of the unique properties of this cutting-edge composite material which is sewn using super-tough Quad Lock stitching, designed specifically for ALUULA.
Simply put: the ALUULA three-strut airframe delivers the best handling in ALL conditions.
SHAPE
Built for the dedicated wave rider, and with a moderate arc, the A-Series Roam is a supremely fast turning kite, combined with a large sheeting range.
ASPECT RATIO
The A-Series Roam's low aspect ratio design and deep foil profile allow for maximum drift and low end power.
| | | | | | | | | | |
| --- | --- | --- | --- | --- | --- | --- | --- | --- | --- |
| SIZE (M) | 4 | 5 | 6 | 7 | 8 | 9 | 10 | 12 | 14 |
| ASPECT RATIO (1-x) | 3.61 | 3.63 | 3.63 | 3.65 | 3.7 | 3.8 | 3.9 | 4 | 4.4 |
RIDGE LOCK SEAM
This innovative seam technology is designed specifically for ALUULA. The ridge moves the stress of the stitch holes and threads to the anti compression ridge. Strategically located to add additional stability to the leading edge, the Ridge Seam helps stabilize the kites arc in gusty and high wind conditions.
QUAD LOCK SEAM
Used specifically on the shaping seams of struts, Quad Lock delivers more than twice the strength of standard strut seam constructs, and was another innovation specifically tailored for the ALUULA airframe kites.
HEX LOCK SEAM
Another new seam from the ALUULA design team. Hex Lock resists torque and pressures far beyond existing seam techniques, and it has been designed specifically for ALUULA composite materials. Hex Lock is used exclusively on leading edge and strut segment seams.
PRECISION CURVE STRUTS
New curved struts hold the designed foil shape delivering the desired performance through the wind range.
SPEED INFLATION SYSTEM
Every aspect of our Speed Inflation System has been fine tuned over the years to be low profile, reduce drag, and above all to ensure that you spend less time on the beach and more time on the water.
Featuring EVA Clamp Covers. See if your clip is open or shut. Light and easy to operate.
HIGH CAPACITY VALVE
Direct hose to valve connection for simple operation. The wide threaded cap is easy to tighten and even easier to unscrew, eliminating the jammed valve cap syndrome. The cap is leashed to the kite, and the valve cover has been re-shaped for a smooth, no-snag fit.
20 years of kite design and manufacturing have gone into every seam, thread, and element of our build process. Our mission is always to reduce weight, increase strength, and enhance performance.
TEIJIN TECHNOFORCE D2 RIPSTOP
Designed specifically for the kiteboarding market, Teijin's Technoforce D2 ripstop has high tear resistance, low stretch, and is incredibly lightweight.
Each strand of yarn is individually coated before being woven together. A second surface coating is then applied to the material, providing long term endurance.
Teijin D2 is the benchmark in quality with proven superiority in durability and dynamics.
BRIDLES
A fixed short line bridle with a floating V design and a two pulley system creates a direct and snappy response while also keeping bar pressure low. New to this generation are larks head loops on the front bridles, and knots on the back lines making for an innovative system that stabilizes the leading edge. This allows the A-Series Roam to lift out of a loop and avoid stall for maximum climb.
SECURE CONNECT
Molded beads on the back line leaders deliver a secure larks head connection every time.
Quick connect front line connector loops in high-vis orange allow for easy line management.
VARIABLE LINE LENGTH
Tailor your kite's performance to match your riding style and launch conditions. Longer lines generate more power while shorter lines increase speed and response. Ultra-short lines provide immediate rider feedback to the kite and a direct, snappy feel with the added advantage of simplified line management at tricky launching and landing sites.
The materials and finishing have been selected specifically to deliver the lowest weight possible while maintaining durability and carrying comfort. This bag comes loaded with features, including quick drain and dry mesh panels and ultra-light shoulder straps. When the bag's not in use, it flips inside out to become a small waist pack.
This Wind range chart is for reference only.
Board size, foil size, rider weight, rider skill level and wind / weather / water conditions all must be taken into consideration when selecting a kite size.
If unsure of which size to select, choose the smaller size.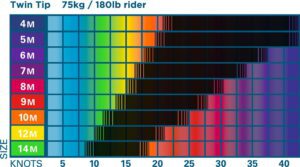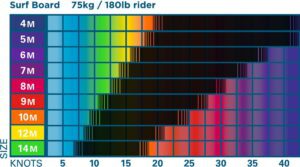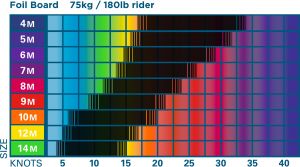 | | |
| --- | --- |
| Kite Size | 10m, 12m, 5m, 6m, 7m, 8m, 9m |