Elite Light Wind Foil Package (Flite Aluula, Alien Air, FKite, Shift Bar)
Elite Light Wind Foil Package (Flite Aluula, Alien Air, FKite, Shift Bar)
This package is a perfect all-in-one light wind foiling set up that is built around being ultra responsive and offering extreme control with no compromises. Save money AND get out on the water faster with this one-stop-shop light wind foil package.
This light wind foil package includes:
Ocean Rodeo Gen 8 2022 Flite Aluula (A-series) Series 12m 
2020 Slingshot Alien Air 4'8 (30.1L)
2020 Slingshot Hover Glide FKite V4 Foil Package
Ocean Rodeo Shift Bar 3.0
Out of stock
This package is built around some of the best gear designed for responsiveness, control, and light wind foiling.
1. Ocean Rodeo 2021 Flite Aluula Series
3 STRUT PERFORMANCE: NO COMPROMISE
It's no secret that removing struts from kites means a compromise in performance – the reduction in weight improves light wind capabilities but the downside is reduced stability and poor top-end performance.
With the ALUULA three-strut airframe, there is no longer a need to compromise…
The reduction in weight and increase in strength of this airframe means you can retain all three struts and still enjoy the light wind benefits you'd get from a no-strut or one-strut kite, as well as the expansive usable wind range that comes with having a three-strut kite. The evenly balanced weight distribution of the three struts and the light leading edge deliver remarkable resistance to back stall and luffing if you overshoot the kite or find yourself in a lull.
Precision curved to match the airfoil profile, the ALUULA airframe is highly tuned to take full advantage of the unique properties of this cutting-edge composite material which is sewn using super-tough Quad Lock stitching, designed specifically for ALUULA.
Simply put: the ALUULA three-strut airframe delivers the best handling in ALL conditions.
SHAPE
The A-Series Flite features a high aspect ratio to produce greater lift and while generating less drag for a kite that lifts you windward.
ASPECT RATIO
Creating a light wind performance kite is no easy task… The A-Series Flite contains a wide arc and large projected area to produce as much power per square meter as possible.
RIDGE LOCK SEAM
This innovative seam technology is designed specifically for ALUULA. The ridge moves the stress of the stitch holes and threads to the anti compression ridge. Strategically located to add additional stability to the leading edge, the Ridge Seam helps stabilize the kites arc in gusty and high wind conditions.
QUAD LOCK SEAM
Used specifically on the shaping seams of struts, Quad Lock delivers more than twice the strength of standard strut seam constructs, and was another innovation specifically tailored for the ALUULA airframe kites.
HEX LOCK SEAM
Another new seam from the ALUULA design team. Hex Lock resists torque and pressures far beyond existing seam techniques, and it has been designed specifically for ALUULA composite materials. Hex Lock is used exclusively on leading edge and strut segment seams.
PRECISION CURVE STRUTS
New curved struts hold the designed foil shape delivering the desired performance through the wind range.
SPEED INFLATION SYSTEM
Every aspect of our Speed Inflation System has been fine tuned over the years to be low profile, reduce drag, and above all to ensure that you spend less time on the beach and more time on the water.
Featuring EVA Clamp Covers. See if your clip is open or shut. Light and easy to operate.
HIGH CAPACITY VALVE
Direct hose to valve connection for simple operation. The wide threaded cap is easy to tighten and even easier to unscrew, eliminating the jammed valve cap syndrome. The cap is leashed to the kite, and the valve cover has been re-shaped for a smooth, no-snag fit.
20 years of kite design and manufacturing have gone into every seam, thread, and element of our build process. Our mission is always to reduce weight, increase strength, and enhance performance.
TEIJIN TECHNOFORCE D2 RIPSTOP
Designed specifically for the kiteboarding market, Teijin's Technoforce D2 ripstop has high tear resistance, low stretch, and is incredibly lightweight.
Each strand of yarn is individually coated before being woven together. A second surface coating is then applied to the material, providing long term endurance.
Teijin D2 is the benchmark in quality with proven superiority in durability and dynamics.
2. ALIEN AIR 4'8"
Our original zero-to-hero board designed to get the masses up, foiling and having fun as quickly as possible. New for 2020, we updated the shape of the Alien Air with a thinner profile, narrower belly and a bit less volume. The changes make it easier to set on rail and water start, lighter and less bulky to maneuver and better as a crossover board for surf and wake foiling.
NEW shape: Thinner, lighter, less bulky
NEW Cushy corduroy deck pad
NEW Leash plug allows for crossover from kite board to surf board
Multiple Footstrap Insert Positions - Ride with 3 straps, 2 straps, 1 strap, half straps or no straps
Our most user-friendly freeride foiling board
Volume, width and scooped nose = easy takeoffs, less crashing, touch-and-go performance
Lots of room to walk around, great for transitions
Great crossover shape for surf foiling
This is still our widest and highest-volume kite foil board, which makes it great for touch-and-go progression, on-water transitions and all-around cruising.
ADJUSTABLE FOIL TRACK MOUNT
---
Allows you to slide your foil forward and aft on your board to fine-tune how it feels and performs based on your size, ability and personal preference.
SCOOPED NOSE
---
This shape enables easier takeoff and less water over the front of your board during touch & go's.  Prevents pearling and helps you bounce off the water and ride it out instead of crashing.
CONCAVE DECK
---
Concave provides increased turning sensitivity and response and allows for more dynamic heel-toe performance. Also helps with proper foot placement placement once you get a feel for the contour of the deck and where the sweet spot is.
CUSHY CORDUROY DECK PAD
---
3. Slingshot Hoverglide fkite v4 foIL SET
The newest version of the Slingshot FKite
Comes with a 28" mast which is ideal for foil surfing or kiting. It also includes a nice new bag to carry it all. This is great all around foil. It will surf well also if you are looking for something mainly for kiting but that can crossover.
The Hover Glide FKite package takes the guesswork out of finding a user-friendly and versatile freeride foil setup that you can enjoy for years to come. Equipped with the bat-like Space Skate 65cm front wing, this setup is stable and forgiving enough for entry-level foilers to learn with and is super agile and playful for more advanced freeriding as you progress.
WHY YOU'LL LOVE THE HOVER GLIDE FKITE
+ NEW Neoprene wing covers & travel bag
+ 28" Aluminum Mast
+ Our hand-picked package for versatility and user-friendly freeride foiling
+ Space Skate wing has tons of range, playful feel and self-centering flight
+ Great for learning and progression- plenty of lift, forgiving response
+ Super playful side-to-side handling, feels like powder turns on a snowboard
+ Hover Glide is a modular system with a wide variety of add-on wings and components
SKU 120236001
FKITE Package includes:
71cm (28") mast, pedestal, shift fuselage, space skate 65 front wing,
42cm rear wing, hardware, shim, neoprene wing covers, travel bag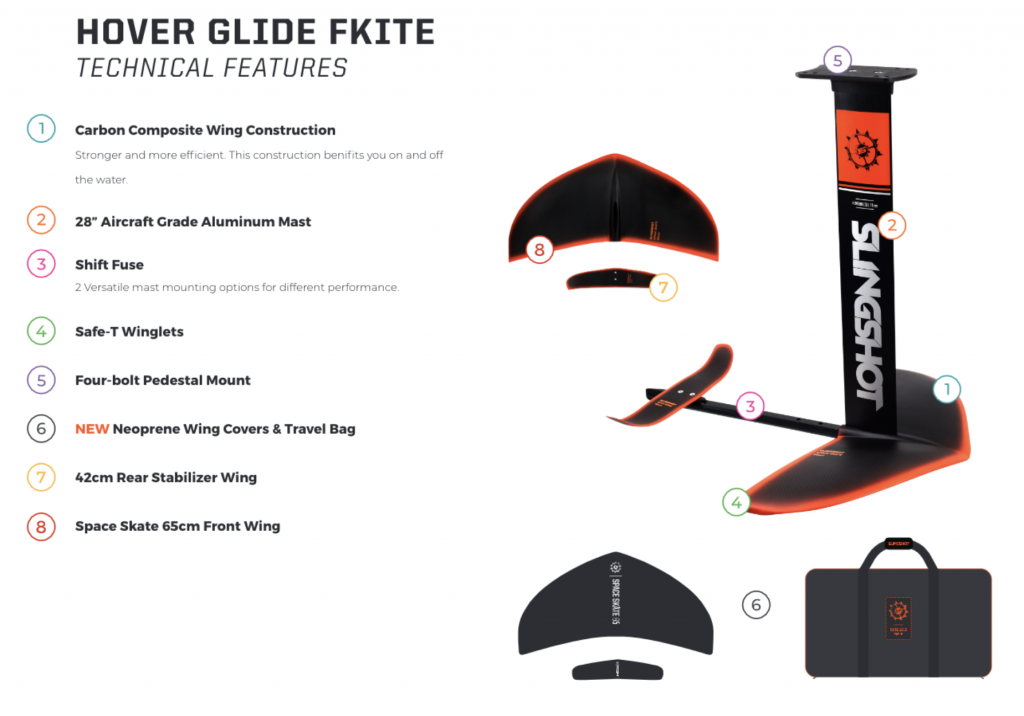 4. Ocean Rodeo Shift Bar 3.0
Backline trim's new standard.
Our iconic Shift bar is suitable for all riding styles, and is particularly popular amongst wave riders and freeriders. Entering its 4th year in production, and fast becoming the future standard of kite control, the Shift has a backline trim that provides reliable and seamless power adjustment, all within easy reach, and without having to take your eyes off the water.
Further new refinements include a reduced diameter grip, resulting in a more direct and tactile feel between the kite and bar. The diamond grip texture has also been refined, making it less aggressive on the hands while still delivering exceptional grip for all riding styles and in varying environmental temperatures.
Featuring single handed click in reset! (ISO 21853 certified)
The Gen 9 Trim Loop sets a new standard in ease of use, security, and is loaded with exciting new features to enhance your ride while delivering reliable release and depower flag out.
The new trim loop has been made significantly smaller allowing the trim to be comfortably within reach, without sacrificing the throw length.
The push release cuff remains held in the open and ready-to-reset position at all angles of release. Simply push the free end of the trim loop into the reset chamber and the release cuff automatically snaps back into position.
For added security, the stainless steel release pin is shrouded by the release cuff, guarding your hand from release pin motion during activation.
The push release cuff features an ergonomic grip. A smooth surface on the back side of the cuff reduces accidental activation of the release cuff against the bumps and bangs encountered while riding.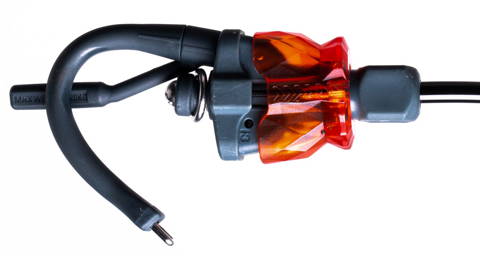 BELOW BAR SWIVEL - THE ROTO HUB
The "Roto Hub" has been further refined, delivering smooth line twist management.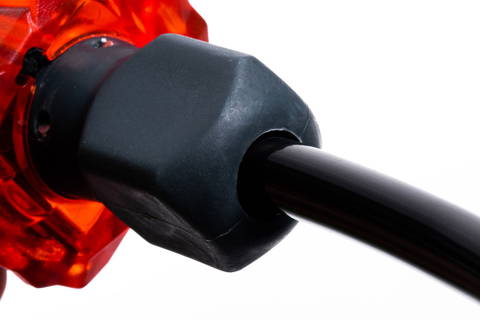 Swapping trim loops has never been quicker. A standard fin hex key is all that's required.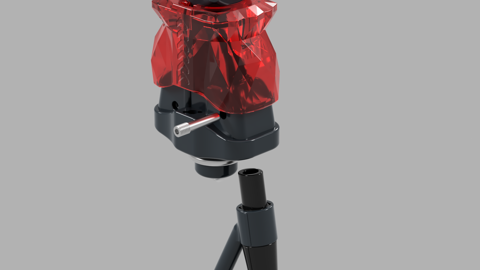 Holds the trim loop in place in the event of slack line or extreme sheeting angles, reducing the chance of unwanted unhooking. Secure lock design between the trim loop retainer and trim loop minimizes false unhooking.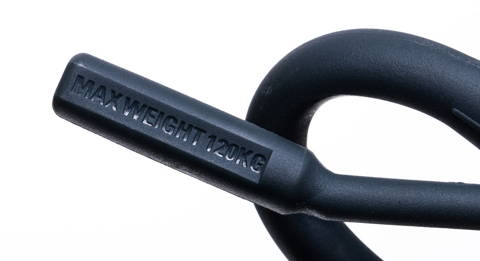 TOTAL TRIM CONTROL WITH ONE KNOB
Twist the Sidewinder to add power, bump or nudge to depower. Quarter turns deliver 1cm of trim, five full rotations sheets in 21cm of direct 1:1 trim adjustment! Instantly depower your kite with a swift downstroke motion on the knob or bump for incremental depower. With only one moving part, the simple open design allows rapid flushing of debris, easy inspection of all parts and simple maintenance if required. With your trim control always within reach, trim adjustment become intuitive and can be made while riding without needing to take your focus off the water ahead.
Note: Sidewinder delivers 1:1 total trim adjustment of 21cm, or 42cm of traditional 2:1 cleated pulley line depower.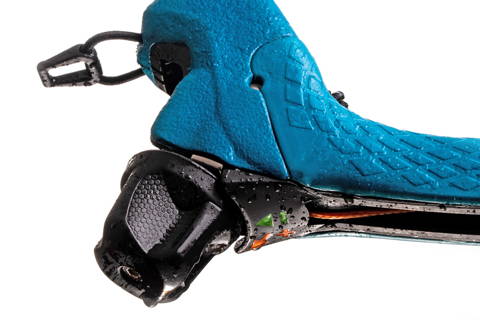 52 CM CARBON COMPOSITE BAR
The Groove Bar's carbon composite build delivers unparalleled strength while setting the new standard in lightweight bars. Ergonomically shaped for comfort, the under bar U channel houses the trim line and is easily flushed of all debris, ensuring smooth and reliable trim adjustment every time. Plush molded EVA grip with integrated bar floats deliver float, superior grip, and tangle-free back lines. Retracting bar end bungees keep your flying lines snug and secure during storage.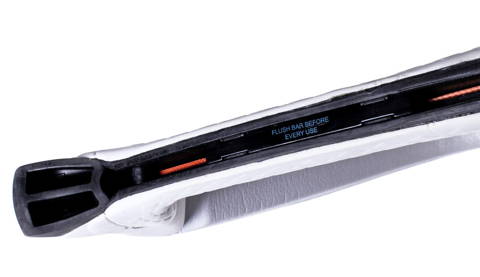 A reduced diameter grip, resulting in a more direct and tactile feel between the kite and bar, and a diamond grip texture which has also been refined to make it less aggressive on the hands while still delivering exceptional grip for all riding styles and in varying environmental temperatures.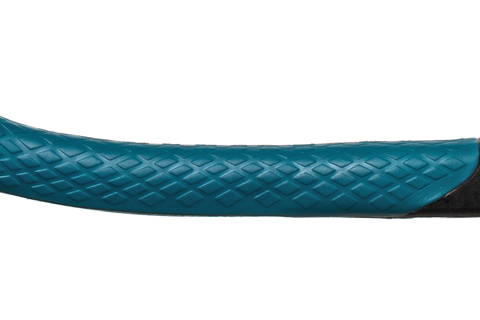 Made with marine grade stainless steel, the center hole is highly tapered to accept the rugged 12mm PU tubing. The refined shape delivers smooth sheeting at extreme angles.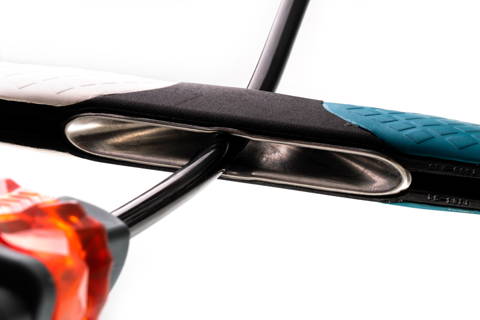 LINE PAYOUT SYSTEM
Now featuring a new crank stop at the top of the bar float preventing overwinding, the Helix Force Tensioned rear lines ensure clean paying rear lines even with slack back line. This feature is crucial when rigging on the beach, allowing you to easily depower your kite before launch, even with no tension on the back lines. Helix Force Tensioning provides perfect spooling every time, regardless of line tension from the kite.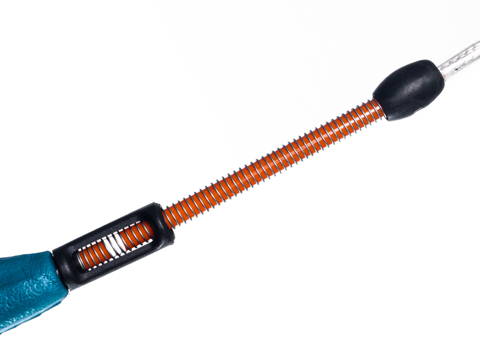 ON THE FLY STOPPER ADJUSTMENT
The easily adjusted, single handed, on-the-fly bar stopper! The Shift's ultra clean front line set-up offers up to 1.2 meters (3'9") in sheeting range. Realize the full sheeting range of your kite by pushing the stopper out to your maximum reach. New riders can slide the stopper completely out to maximum throw for near total depower on SLE kites by simply just letting go of the bar. All styles of rider will appreciate the flexible stopper positioning for specific moves.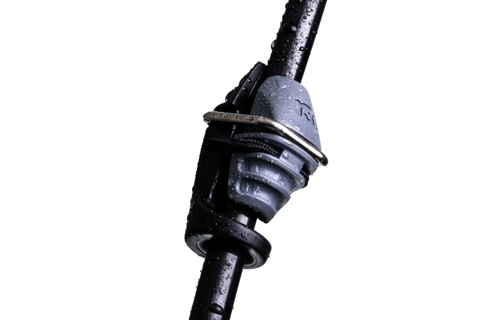 KITE RELAUNCH ASSIST
Relaunch beads are located on the back line leaders just above the ends of the Helix Force Tension system. They offer an easy spot to grip if a back line pull is required to expedite water relaunch.

ROTO BIT
LIGHTWEIGHT LINE SPLITTER
Dynamically synced to the Roto Hub allowing no way for line twists within the line tubing. This ensures easy front line flag outs and makes line twists easy to sort out on the water.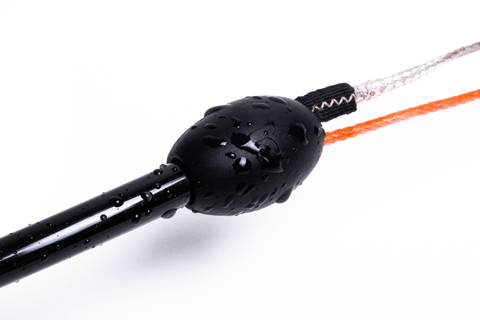 PREMIUM LIROS FLYING LINES
German made Liros DC 401 Ultra HD flying lines, tested to 580 kg (1275 lbs). Lower sections of front lines are Liros D-Pro. Lines are coloured for easy rigging. Front line re-ride is orange for easy identification while resetting the system.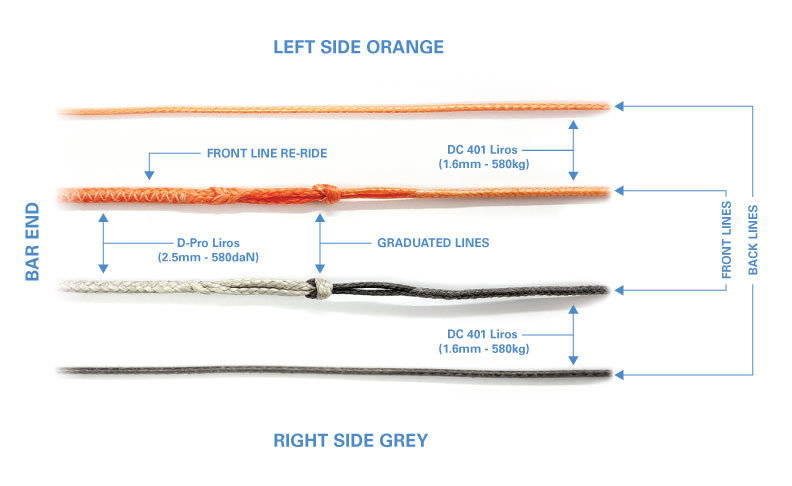 Compatible with all 4 Line Kites
The Shift ships with an assortment of premium pigtails, ensuring compatibility with all major kite brands. Each pigtail is individually marked with length, allowing you to also adjust for eventual front line stretch.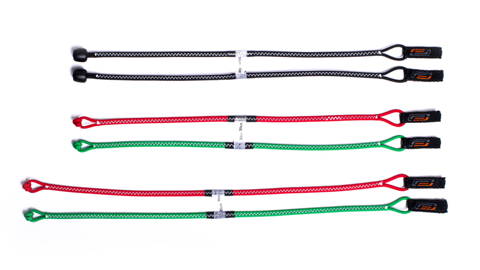 ISO 21853 certified
This new leash is composed of a HD Spectra line sheathed inside a rugged 8mm urethane tube and features a refined stainless steel carabiner that is lighter, smaller and stronger than previous designs.
The carabiner is housed inside the EVA float and pre-tensioned carabiner garage, reducing the chance of line snagging.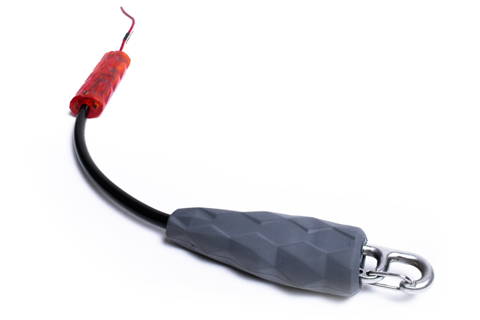 Features a coil zip for easy access, mesh panels for quick drying, and an inside pocket for pigtail storage.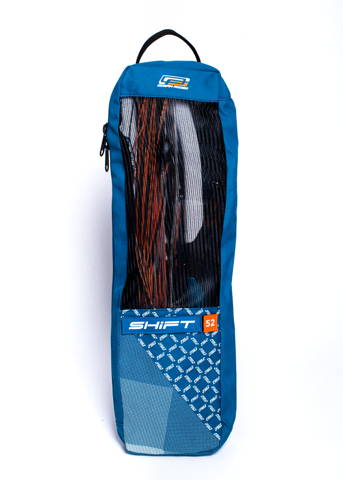 Brand
Ocean Rodeo
Ocean Rodeo is based in the Northwest. Built on cold tough terrain, they make durable kites and great drysuits. Their Mako is a really popular kiteboard.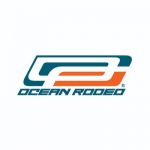 Slingshot Kiteboarding
Buy Slingshot Kites, Foils, Boards and Accessories (On Sale now)
Slingshot Sports KiteBoarding, Wake, Surf Gear.
Kites, boards for kite, wake and surf, foils, and accessories from slingshot sports are some of the best in the industry
History of Slingshot
Since 1981 Tony Logosz and his brother Jeff have dedicated themselves to the performance and design of quality water sports equipment. Years of hard work and innovation, that is spawned from Tony's ability to think in original ways, is what fuels them today. In 1999, after numerous innovations in windsurfing, wakeboarding and other major sports, both set forth to found Slingshot. Since then Slingshot has grown to be a global brand which caters to top kiteboarders and wakeboarders in the world.
Slingshot in today's board sports industry
Slingshot today: achieving this level of success commits us to our core beliefs. People who ride Slingshot will always come first. Our commitment to quality, innovative design, testing and riding have been a driving force for an entire decade. Through this decade we have been awarded four U.S. patents that make kiteboarding more convenient and safer. We also proudly license patents, from other great innovators of our sport, to help establish high levels of quality and set industry standards. This contributes to the prosperity and growth of kiteboarding and wakeboarding. Have a question about Slingshot Kites, Slingshot Kiteboards or Slingshot Accessories?
info@kiteboardingcloseouts.com
Kiteboarding Sale
Sale Prices - Get the Best Sales online
See our kiteboarding equipment that we have for sale by looking at the items below marked with the circular blue "Sale" sign, or navigate to the homepage and look at the bottom under the section:
ON SALE NOW! DISCOUNTED KITEBOARDING GEAR
Kiteboarding Kites
If you are looking for kiteboarding kites for sale, we can help. At Kiteboarding Closeouts, we often buy previous season inventory in bulk so we can pass those savings on to you. Contact us to find out if we have the kite you are looking for. You can purchase with or without bar and lines.
Slingshot Kiteboarding Kites
-Slingshot kite for sale:
See our current inventory of slingshot kites In general we usually carry:
Slingshot Rally Kite
Slingshot SST Kite
Slingshot RPM Kite
See this page to view
kites for sale
Sale Prices
Sale prices can vary based on new vs. used. For instance, we may have a 2015 for under $400 or a new kite for $1,221. Review the products below to see our current stock of new and used slingshot kites.