F-One Titan Aluminum Mast, Top Plate, Titan Mast Foot
The F-ONE Aluminium Mast can be used for all disciplines, kite, surf, stand up paddle and windsurf.
The profile is extruded with precision from 6063 aluminium block. The shape of its section benefits from our years of experience in kitefoiling to provide the best gliding feel while keeping the strength up and the weight down.
It comes with two stainless steel helicoil inserts at the bottom and at the top to fasten the connecting parts and is therefore fully modular.
The aluminium mast can be used on every foil of the range and it is very easy to jump from one length to another.
The TITAN Mast Foot is the connecting part that makes the F-ONE aluminum masts compatible with all TITAN fuselages and wings. It is made of superior-grade aluminum 6061, CNC machined with high precision and fully anodized. To install the TITAN mast foot, it should be inserted into the bottom end of the aluminum mast and fastened with two M6x25mm tapered head screws.
The Mast Top Plate enables to connect the F-ONE aluminium masts to all boards featuring a twin track system (the lateral spacing between the tracks must be 90mm). It is made of aluminium 6061, CNC machined with high precision and fully anodized.
Technology
This aluminum alloy boasts some very good mechanical properties and can be processed in many ways while also offering a natural resistance to corrosion.
Produced from an extrusion process, our aluminum profiles make the most of this homogeneous material to provide perfect stiffness both in torsion and bending. All areas in contact with other metals or carbon parts are duly isolated against galvanic reactions.
Machining blocks of aluminum 6061 guarantees the maximum accuracy and preserves the mechanical properties of this higher grade of aluminum. All parts are fully anodized and stainless-steel inserts are fitted with insulating gel when fastening is required.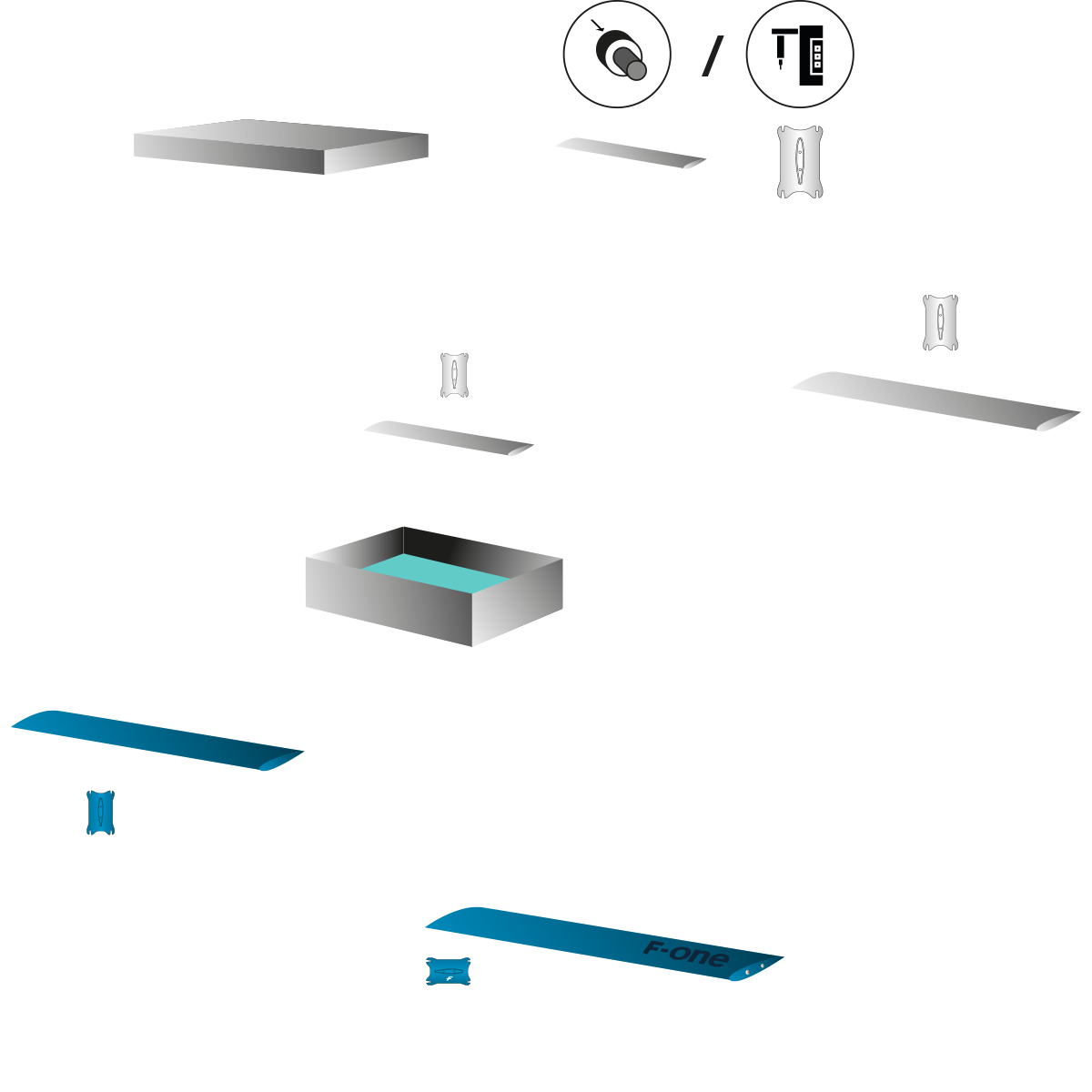 To connect the Mast Top Plate to the mast, slide the mast into the sleeve of the Top Plate and fasten using two M6x25mm tapered head screws. To connect the plate to the board, slide the F-ONE T-nuts into the tracks and fasten the plate using M6 tapered head screws. (25mm for bamboo and carbon bamboo boards – 16mm for Topsheet construction boards).
| | |
| --- | --- |
| Size | 75cm, 85cm, 65cm, 95cm |