Armstrong MA800 Foil Kit
$2,499.99
What's included?
MA800 Front Wing, Flow 235 Stabilizer, 85cm v2 Plate mast, TC60cm V2 Fuselage, Shims, Carry Bag, and all necessary hardware + Torx tool. 
This kit is the highly rippable performance foil. Perfect for accomplished riders: Kiting, tow, Surf, and wing foiling!
Options to swap the fuselage and mast.
Armstrong's next generation foils. MA (Mid Aspect) takes everything they've learned from the HS, HA and CF V2 ranges and delivers a truly next-gen combination of glide, low stall speed, intuitive carving and instantaneous breach recovery. These foils offer the best of all worlds to experienced riders in every foil sport.
Stellar Glide and Acceleration
A specially tuned leading edge shape gives MA foils stellar glide and highly responsive acceleration. They're a dream to pump when connecting wave sets, downwinding in open ocean swell, or riding way back on a boat wake.
Low End Lift and Broad Speed Range
Thanks to its high camber foil section, the MA range delivers a unique blend of lift at low speeds yet retains excellent controllability at the top end. This makes getting onto foil and pumping easier while reducing your chances of being "over foiled" in big conditions.
Fluid Carving
There's nothing better than feeling connected to the foil through a turn, which is why we've designed the MA foils to deliver seamless and intuitive control through the full range of bank angles.
Lightning Fast Ventilation Recovery
From breaching a wingtip in the surf to landing an air, the MA range handles ventilation with ease. A fine leading edge section and tuned wingtip inflection allow for quick flow reattachment after a breach, making these foils the perfect platform for practicing aerials or ripping the hardest turns of your foiling journey.
MA800
The highly rippable performance machine.
Specifications
Projected Area: 800cm2
Span: 765mm
AR: 7.32
Angle relative to fuselage: 1.5 deg.
Rider Recommendations
Wing: Intermediate-Advanced
Prone Surf: Advanced
SUP Surf: Advanced
Kite: Intermediate-Advanced
Flow 235cm sTABILIZER tail Wing
It's all in the name. The Flow 235's name says it all! It's smooth and predictable, inspiring your confidence and flow. Building on the much-loved HS232, this stabiliser adds a new section for consistent pitch stability, an increased projected aspect ratio and a refined planform to deliver an easy and free feeling ride. If you enjoy several foiling disciplines and want one stabiliser to cover them all, the Flow 235 is for you.
Derived from the much-loved HS232 platform.
Developed in conjunction with the new MA foil range.
New section and thinner profile with more camber.
Higher projected aspect ratio for improved glide.
More responsive for pumping.
Consistent pitch stability.
Specifications:
ANGLE RELATIVE TO FUSELAGE (NO SHIM): -1.5 DEG.
SPAN: 386mm
ASPECT RATIO: 6.4
AREA: 235 cm2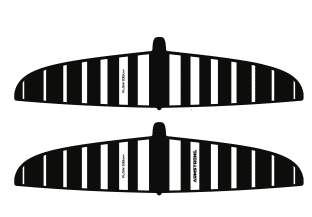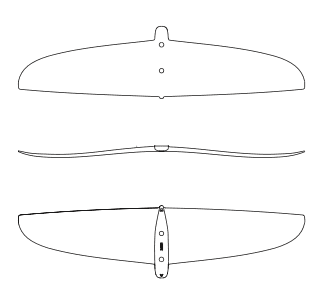 Zippy Acceleration
The foil section is thin but with pronounced camber, decreasing drag while also improving lift, forward projection and acceleration.
Consistent Pitch
Linear pitch characteristics throughout the full speed range even out front and back foot pressure, minimising lift spikes during acceleration and deceleration on the wave.
Broader Speed Range
A high camber section delivers the perfect blend of lift at low speeds to make getting onto foil easy, yet retains excellent controllability at high speeds.
85cm V2 Plate Mast
Armstrong's new A+System is taking strength and durability into the future! 
Their V2 FULLY TAPERED ONE PIECE MASTS ARE ULTRA SOLID AT THE TOP AND SLICK THROUGH THE WATER DOWN BELOW.
The unique quad c beam core layup delivers a mast with smooth consistent reactive flex, generating sweet handling response and better stability by smoothing out bumps and flexing precisely to drive you through turns.
The V2 masts also feature bombproof zero corrosion Bi Directional Titanium Washer and Titanium T Nut system, which creates a rock solid connection between mast and board.
The V2 mast construction and shape combine to make a mast that will deliver predictably every time.
Mast construction details
Our unique mast construction was developed in conjunction with composite experts who worked on Team New Zealand America's Cup foils.
The quad C beam mast core delivers 'dynamic reactive flex' that equates to better strength, stability and control without compromising weight.
The mast layup is futuristic: at the heart is a multi-piece core that gets wrapped with carbon that has optimized fiber orientation to maximize the potential of the materials.  100% Carbon cloth outer shell ensures a part that is robust and will last.
Mast Weight: 1500g
TC60cm Fuselage
THE TC60 ALLOWS GREATER MANEUVERABILITY AND IS SUITED TO THE ACCOMPLISHED RIDER. THE SHORTER LENGTH OFFERS WAVE RIDERS TIGHTER CARVING TURNS AND QUICKER RESPONSE FOR SHREDDING WAVES.
The Armstrong HEX Fuselage is a ground breaking work of art in terms of engineering and design.
The fuselage has a solid Titanium core running throughout its length. The core is then shrouded in 5mm solid wall Carbon tube.The multi wing HEX fitting for the mast and front wing gives 360 degree surface contact, maximising the load distributing area.
This unique fuselage construction easily handles the highly leveraged opposing flex loads as the mast and wings are directly keyed into the Titanium core, taking your ride to the next level.
Weight: 407g
Details
Running through the heart of each fuselage is a solid  Titanium Core, our new A+System takes advantage of this  by incorporating full width Titanium Barrel Nuts across  both mast and front wing connections to lock them in  position. The unique HEX fitting for the mast and front  wing gives 360-degree surface contact, maximising the  load distributing area.  
We've streamlined, strengthened and simplified the rear  wing connection by attaching the tail wing directly to the  A+System TC Fuselage and combining the current TTF  shape directly into the fuselage. For most riders this means  a simple, direct, shim-less connection of the tail wing.  
For more advanced riders wanting faster, looser setups, we  have new low profile Polycarbonate Pro Shims, allowing  more than 5 angle settings at 0.5 degree increments, from  –1 degree to + 1.5 degrees for the tweakers out there. The Polycarbonate Pro Shims also allow riders to take full  advantage of our cutting edge "Forward Geometry" boards. 
The A+System TC Fuselage is fully compatible with all  existing HS and CF parts (wings, masts and tail wings). Plus  we have an upgrade kit available to retro fit your front foils  and current mast to A+System Barrel Nut fittings.