USED 2021 Cabrinha 10m Switchblade
*All used kite/wing/board sales are considered final. We do our best to accurately describe the condition of each item. If you have further questions, please feel free to give us a call at 321.252.5483. If you decide you do not wish to keep the kite upon receiving it, it must be shipped back (at your cost) within 2 business days of receiving it. We will then issue a refund (minus our shipping cost) once we receive and inspect the kite. We will not accept returns once the item has been used on your end. Enjoy!
DESIGN PROFILE
5 strut, Hybrid design, Fusion wing tip shape, Draft forward profile. When it comes to a kite which represents the pinnacle of performance and versatility, the Switchblade has no equal. The greatest achievements in the sport of kitesurfing have been accomplished with an 'off the shelf' Switchblade. Using the exact same kite which can be bought in stores. This is not only a testament to the Switchblade's uncompromising high end performance, but also to it's reliability, predictability, durability and ease of use. In a commercial sense, it is a product offering rarely seen in any other professional sport. And yet today, Cabrinha is still the only kite brand which has engineered such a feat.
FEATURES & BENEFITS
• Heavy duty closing seam construction
• Nano Ripstop Canopy - The benchmark in durability, stability and responsiveness
• High Tenacity Dacron for enhanced arc stability and improved handling characteristics
• Strategic canopy reinforcements in the high stress areas
• Pure Profile Panels for efficient aerodynamics
• Ultimate performance in the widest range of conditions and variety of riding styles
• Ridiculously high hang times
• Large sweet spot and smooth on demand power control
• Excellent upwind performance
• Swept leading edge for effortless relaunch
When it comes to a kite which represents the pinnacle of performance and versatility,
the Switchblade has no equal.
Find out below how our team around the world have been using theirs:
Cam Kellett knows a thing or two about the looping potential of the switchblade. One example of the switchblades versatility in the hands of any kiteboarder.
This has to be the ultimate switchblade playground and no one knows this spot as well as Cape Hatteras local, Evan Netsch. If big air and hangtime is your thing, look no further...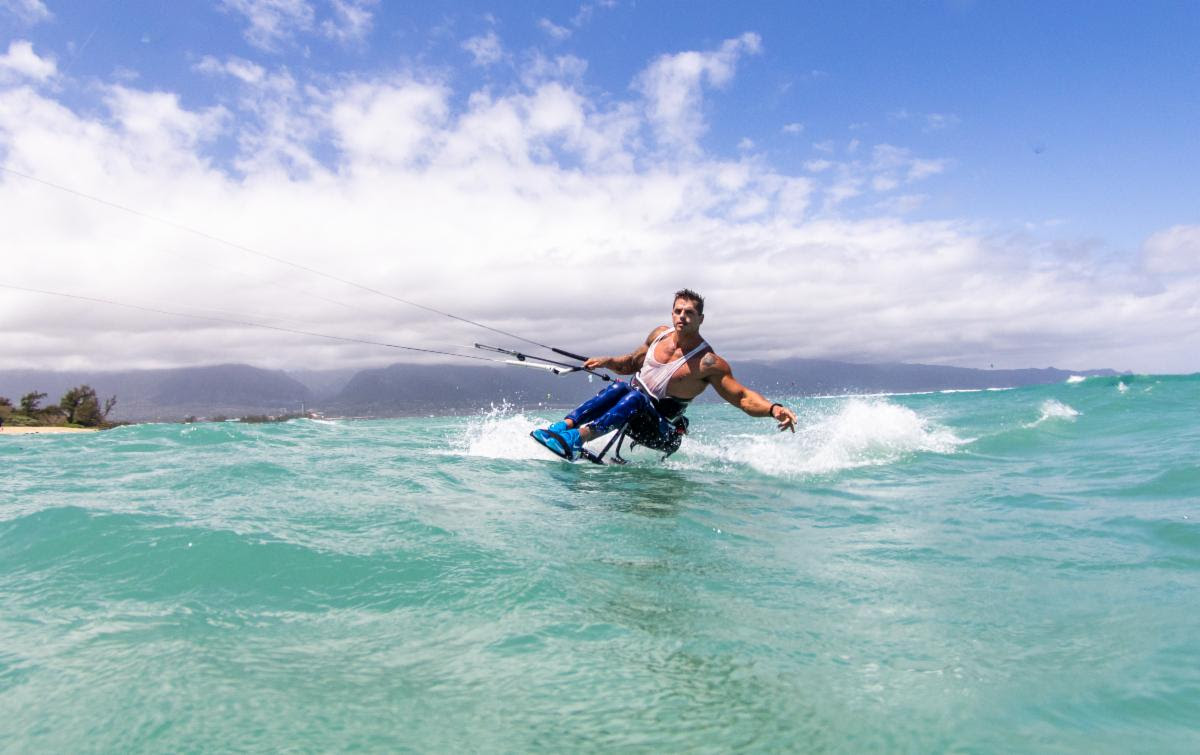 "I want to do what superman does...FLY!"
Kiteloop madness with Fernando Fernandes & his switchblades. True progression from the brazilian legend.
"The Switchblade is such a fun kite to ride. Super stable, floaty hang time and consistent power delivery. It's such a great kite to ride for beginners through to advanced riders and my favourite option for windy days. I also taught my sisters to ride with Switchblades!"
- Annelous Lammerts
Brand
Cabrinha Kites
Cabrinha Kiteboarding
kites -  Cabrinha Boards, Cabrinha foils & surf
Whether you are looking for the new Cabrinha Moto Kite or popular kites like the Cabrinha Switchblade, Contra, Kiteboarding Closeouts can help you get your complete quiver together and get you out on the water. Set up a user name and password with us to start shopping for state-of-the-art Cabrinha gear.
We carry all of the latest Cabrinha products. Follow us on Instagram to see the latest sales, trends, and promotions.
From beginner rider to advanced improve your sesh with Cabrinha's product lineup. For more information stop by our shop or call us. We even provide instructions (in English). Explore FX, bow kite, canopy material, nano, Cabrinha news regarding conditions, wind range, proper sizing, control, pull, holding an edge, boosting, types of gear, kiteboard alternatives, wings, and everything from videos, bar and lines, kite stability, various options/offers available in stock, and more.
Join us at an event demo to try out the latest in Cabrinha kites. Meet the Cabrinha team riders, get insights about the latest in the sport. Level up your sessions.
We love our customers. Phone, email or message us for more info.
We offer FREE shipping on most Cabrinha kites, kiteboards, foils, surf, spreader bars, chicken loops, and accessories (some minimum quantities apply). You can also choose local pick up. Use the navigation below to find the products you are looking for quickly and easily.
Cabrinha leads the industry in safety and performance. Since 2000, Cabrinha, a subsidiary of the Pryde Group, has climbed the ranks to take the position as the leading kitesurfing brand, selling in over 40 countries worldwide. Inspired and driven by Maui waterman, Pete Cabrinha, the company produces everything from kites to boards to accessories and sponsors the top athletes in the sport.
The Cabrinha approach to kiteboarding has evolved very much from the same philosophy that Pete has applied to his many years of surfing.
By keeping an open mind to all styles of riding and embracing new technologies, Cabrinha has been able to lead kitesurfing into a new era of performance.