Indo Board Balance and Foil Trainer
Indo Board Balance and Foil Trainer
$104.50 – $188.50
Indo Boards most popular balance trainer. The original board is a fantastic way to train your balance without making a trip to the water. Options include board only, original roller, and the flow cushion.
The INDO BOARD® Original Deck features our 30" X 18" oval Original deck. The Original is our most popular model and provides both fun and effective balance training for anyone ages 3 to 93.
Original Training Package
Deck dimensions: 30" X 18"
Deck construction:  11/16" cabinet-grade, Baltic Birch plywood
BOARD SPECS
Indo Boards are built with the finest quality materials available and are made specifically to withstand the rigors of daily use. With 20 years of research and development behind us we are confident that our products not only perform well but will stand the test of time.
Deck dimensions: 30" X 18"
Roller size: 6.5" diameter
Weight limit: 250 lbs
Deck construction: 11/16" Cabinet-grade, Baltic Birch plywood with non-slip surface
Roller construction: indestructible molded plastic with three strips of grip tape
Original Roller Option:
Our rollers have been carefully designed to provide the correct action for each INDO BOARD deck.
Use the Original roller for all Original size INDO BOARD decks
Original Roller Specs:
Diameter / Height: 6.5"
Width: 18"
IndoFLO Cushion Option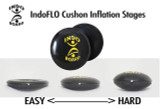 | | |
| --- | --- |
| Roller Type | BOARD ONLY, BOARD & ORIGINAL ROLLER, BOARD & FLOW CUSHION |