Armstrong Surf 205cm Stabliser Tail Wing
Surf 205 cm2
Fast and responsive to unleash your inner shredder.
The Surf 205 is a highly maneuverable stabiliser that enables tight and critical turns in the pocket. This design is derived from the low aspect HS212 (chopped HS232) which dedicated surf foilers found to be the ticket for foil surfing. The Surf 205 builds on that with refinements to the foil section, planform and thickness to unlock the most freedom on the wave.
Derived from the HS212 (chopped 232).
Developed in conjunction with the new MA foil range.
New section and thinner profile with more camber.
Lower aspect for surfing in the pocket.
Consistent pitch stability.
Specifications:
ANGLE RELATIVE TO FUSELAGE (NO SHIM): -1.5 DEG.
SPAN: 344mm
ASPECT RATIO: 5.9
AREA: 205 cm2
Zippy Acceleration
The foil section is thin but with pronounced camber, decreasing drag while also improving lift, forward projection and acceleration.
Consistent Pitch
Linear pitch characteristics throughout the full speed range even out front and back foot pressure, minimising lift spikes during acceleration and deceleration on the wave.
Broader Speed Range
A high camber section delivers the perfect blend of lift at low speeds to make getting onto foil easy, yet retains excellent controllability at high speeds.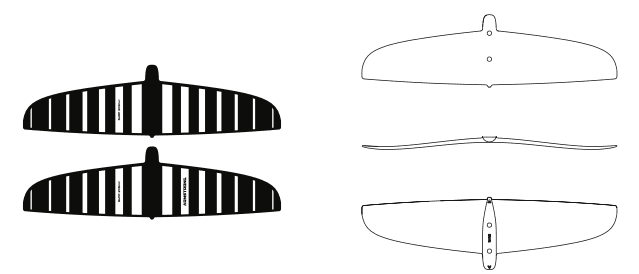 Brand
Armstrong Foils
Looking for an Armstrong foil, mast, foilboard, complete foil, or fuselage? Armstrong foils are known for their impeccable workmanship, surf, kite, tow stability and have been developed for you the rider who will not accept any substitute. Armstrong masts are renowned for their strength and light-weight design. Using full carbon foil technology combined with precision, Armstrong is becoming a market leader in the Wing, SUP, Kite, Surf, Tow, and Wake world.  We carry Armstrong's full line of foils. -Check out Armstrong's latest products including:
HS625
HS1050
CF1200
HS1250
HS1550 V2
CF1600
HS1850 HA1125
CF2400 v2
See our full line below.