**All used kite/wing/board/foil sales are considered final. We do our best to accurately describe the condition of each item. If you have further questions, please feel free to give us a call at 321.252.5483. If you decide you do not wish to keep the product upon receiving it, it must be shipped back (at your cost) within 2 business days of receiving it. We will then issue a refund (minus our shipping cost) once we receive and inspect the product. We will not accept returns once the item has been used on your end. Enjoy!
PFI 633/710 LOWER PACKAGE V1
PROGRESSION / STABILITY / FLOAT
The Phantasm Freeride Infinity (PFI) 633/710 Lower Package features a larger, lower aspect front wing that gives it tons of lift, stability, and dynamic performance at lower speeds. This package is built with the PS 400 carbon rear stabilizer and 710 fuse. The PFI 633 package was built to provide you with maximum freeride performance as the most predictable and user-friendly foil on the market. At higher speeds, the PFI 633 will track and retain its stability, which aides in setting up for jibes and tacks and also prevents over-foiling. The larger surface area of the PFI 633 Front Wing, combined with the efficiency of carbon means it has a huge wind and speed range. The wing's unique inverted gull shape provides a crazy level of dynamic carving control and a self-centering flight you have to feel to believe.
SPECS:
SURFACE AREA (cm2) = 1270
SPAN (mm) = 633
CHORD (mm) = 264
ASPECT RATIO = 3.2
WHY THEY MADE IT
The PFI 633/710 Lower Package is the most intuitive foil combination ever. It's easy and safe to learn one, yet offers unmatched performance and versatility as you progress.
WHY YOU'LL LOVE IT
Provides the best all-around performance on the market The perfect blend of speed stability, lift and maneuverability Progress quicker and easier than ever before with smooth, unmatched stability
PFI 633 FRONT WING
The most predictable and user-friendly wing series in the Phantasm range. The PFI 633 Front wing also features Safe-T- Winglets to prevent injury as well as provide added predictability and stability.
PS 400 SHIMLESS CARBON REAR STABILIZER
No Shims and no extra parts = no problem. Shims are an inefficient way of altering your foil's performance and cause unnecessary drag.
710 FUSELAGE
A high-performance, aircraft-grade aluminum alloy fuselage that has been shaped and designed to offer unmatched stiffness and strength.
BIGFOOT CONNECTION
The Phantasm mast-to-foil connection is over 50% larger than our competitors—this increased size makes it the strongest and most robust in the industry.
NEOPRENE WING COVERS AND TRAVEL CASE
Protect your foil whether you are simply heading to the beach or heading around the world. Your foil comes complete with both a travel case and durable neoprene wing covers.
SAFE-T WINGLETS
No sharp foil wings here! Our designers focused the foil wingtips down and away from the rider making a smooth and soft edge which helps prevent injury should you come in contact with your foil. They also provide stability for an even more predictable ride.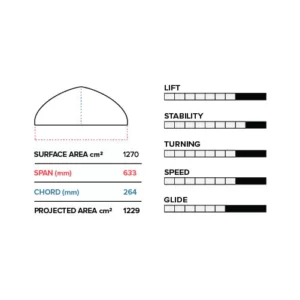 PHANTASM CARBON MAST 92CM v1.1
The stiffest carbon mast on the market delivers the most predictable ride—no matter your speed or style.
Finally, high-performance stiffness, built for high-performance riders. Our Phantasm construction starts from the ground up, utilizing our proprietary dual-molding process. Each mast is laid up to precise specifications with unidirectional and 12K premium-quality, super-high-modulus pre-preg carbon. Inside is a dual-carbon core that ensures next-level stiffness in major, minor and biaxial directions. Running lengthwise between the dual-core is an I-beam constructed from 12K and 24K carbon that creates the third and final layer of rigidity and solidity.
WHY THEY MADE IT
They wanted the stiffest mast on the market for the most predictable ride – no matter the speed or style. We also wanted a big, solid footplate connection to the fuselage that inspired rider confidence and enforced the overall rigidity of the platform.
WHY YOU'LL LOVE IT
Each mast is laid up to precise specifications with unidirectional and 12K premium-quality, super-high-modulus pre-preg carbon.
Bigfoot Connection: The Phantasm's mast-to-foil connection is more than 50% larger than our competitors. This increased size makes it the strongest and most robust in the industry.
Large pedestal base for a solid connection to your board with plenty of adjustabilities.