Freedom Foil Techno 2.0 Foil Board White w/ Inserts
The Details
Techno Vs. Techno 2.0
We've been working hard (and listening to our customers) to make the Gen 1 Techno even better!
Techno 2.0 is built to last! We have upgraded our builds to include reinforced "carbon sandwich" future boxes. We're now also running the carbon all the way to the edge of the foil boxes eliminating any weak connections points. Our boards are now built with higher density EPS Foam. Although this adds a slight amount of weight to the board it allows for a stronger adhesion to the carbon and facilitates a much stronger board through reduction of heat expansion.
Translation… The Techno 2.0 is our best board build yet!
---
The name says it all… The Techno was created by combining some of the most technically advanced design and manufacturing processes. Cut with machined precision out of ultra light EPS foam The Techno model is built to exact measurements every time.
Reinforced with High Density Foam "Divnicell" our foil boxes are locked in securely so as to assist with the high levels of torque associated with foiling. Wrapped in Carbon Fiber, all Technos are built to be extremely light, rigid and durable. Whether it's carving or pumping, if your looking for a board that enhances your connection to the foil The Techno is for you!
FEATURES:
Concave Deck - Maximizes board control and feel
Step Rails - Increases board rigidity and responsiveness
Forward Volume to assist with paddling
Chine Rails - reduces drag and assists water contact rebound
1.5 lb EPS Core Construction with Divinicell inserts for the foil boxes
Carbon Fiber Construction to the edge of foil boxes - Maximizes foil box durability
Upgraded Carbon sandwiched foil boxes
Carbon wrapped epoxy glassing
Double concave bottom - reduces drag on touch-downs and assists in take off
Air Vent - Helps prevent delams through one way valve pressure release
Leash Plug - Included on every board!
Footstrap Inserts - Optional
Brand
Freedom Foil
Freedom Foil Boards are some of the premier foil boards out there. Designed for prone and sup foil surfing. The unique bottom shape and light weight construction really makes the FFB brand stands.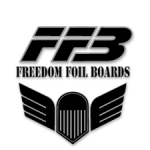 | | |
| --- | --- |
| Size | 4'2" x 19.75" x 3.1" 34 liters, 4'5" x 19.75" x 3.2" 38 liters |