Sale!
Slingshot Hover Glide Space Skate Carbon Wing 65cm (H4)
$416.76
SKU: 19711018
FOIL SPEED RANGE: 10 – 16 KNOTS
In stock
Slingshot Hover Glide Space Skate Carbon Wing 65cm (H4)
Tech Specs:
Weight 3.95LBS
Carbon Composite Construction
Reverse compatible with all Slingshot Foils
Includes Mast cap and hardware to use while foiling in B fuselage position
Included in the 2019 FKite complete foil package
Designed for kite foiling with low lift at high speeds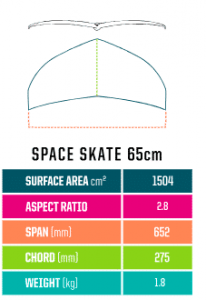 Brand
Slingshot
Slingshot board sports. Since 1981 Tony Logosz and his brother Jeff have dedicated themselves to the performance and design of quality water sports equipment. Years of hard work and innovation, that is spawned from Tony's ability to think in original ways, is what fuels them today. In 1999, after numerous innovations in windsurfing, wakeboarding and other major sports, both set forth to found Slingshot. Since then Slingshot has grown to be a global brand which caters to top kiteboarders and wakeboarders in the world. Slingshot today: achieving this level of success commits us to our core beliefs. People who ride Slingshot will always come first. Our commitment to quality, innovative design, testing and riding have been a driving force for an entire decade. Through this decade we have been awarded four U.S. patents that make kiteboarding more convenient and safer. We also proudly license patents, from other great innovators of our sport, to help establish high levels of quality and set industry standards. This contributes to the prosperity and growth of kiteboarding and wakeboarding.